"That Medicine I Will Not Take!" (Hardcover – $12.99)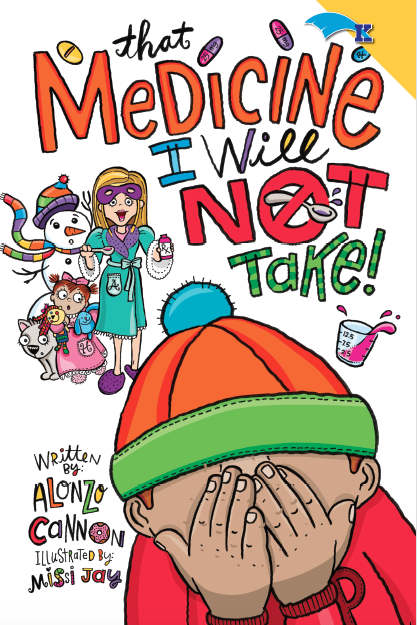 With classic cadence and catchy rhymes, "That Medicine I Will Not Take!" is a new manifesto for all kids who have the will to well.
No one knows how capes magically appear on the kids of Cape City, but it happens the moment they do feats of awesomeness. These cape-wearing dynamos are called Caped KIDsaders!

What is THIS!!?? Preston wakes up ready to rock winter break, and instead he wakes up sick. This was NOT the plan. Especially when he's expected to down the ol' insult to injury – MEDICINE. Nope. Arms crossed, mouth pursed, a bevy of whimsical why-not's to follow, with Preston as the poet with pride and principal – medicine is not for him. No. Thank. YOU.
BUT. Something changes when he catches a glimpse of what he could be doing. Empowered by the will to well, Preston takes his medicine by the bullhorns, drinks it down, and valiantly charges outdoors in a raucous reunion with his pals.
Relatable, repeatable, and rejoicing in the spirit of children, this book is a tribute to all that kids are CAPE-able of. With or without their capes on.
The Caped KIDsaders book series was written from a perspective that holds children in the highest regard. Each main character is the protagonist in his or her own story, empowered to evaluate their own situations, identify their own rewards, draw their own conclusions and make their own decisions – all without adult intervention or influence. The underlying theme in each book reinforces this important message to both kids and the adults in their lives: that, left to their own devices, kids are CAPE-able of the analytical, logical and independent thought that leads to good decision-making and builds a strong foundation for the coping skills required to deal with the various complexities of growing up.
"For all of you that have young children or you just want to read a great book- this is a must!!!"
~Hilary Allen, Oklahoma City, OK
"As a Pediatric Physical Therapist and Mother of three I enjoy allowing the children I work with to make choices for themselves that lead to good outcomes. This problem solving ability helps with a child's commitment, enjoyment and ownership of their progress in therapy, as well as being a wonderful skill to develop early in life. Cannons' engaging book, "That Medicine I Will Not Take" hits a home run in addressing the philosophy of good decision making for children."
~ Stacey Taylor, MPT, Shawnee, OK
Click on images below to enlarge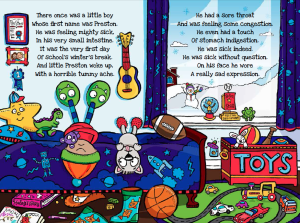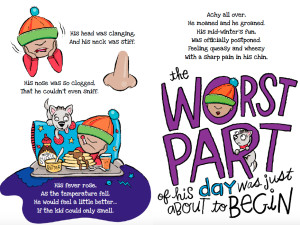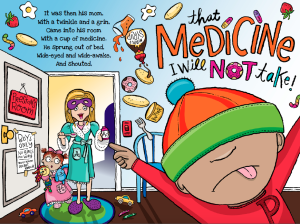 Price $12.99
100% of all sales proceeds goes to support the work of the Caped KIDsaders Children's Hospital Foundation.
For bulk orders of more than 10 copies, please contact us!