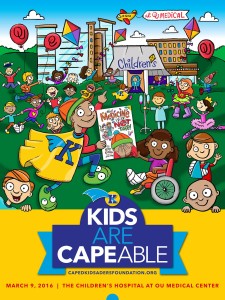 MARCH 9th 2016!
Caped KIDsaders Children's Hospital Foundation is teaming up with The Children's Hospital at OU Medical Center to create the world's very first Caped KIDsaders!
Join us in the Children's Atrium on Wednesday March 9th from 11:00am to 1:00pm for a fun-filled family event featuring light refreshments, coloring and crafts, a book reading, and a special appearance by Chipper the Bird.

The event will be streamed live to patient rooms for children and families who are unable to physically attend.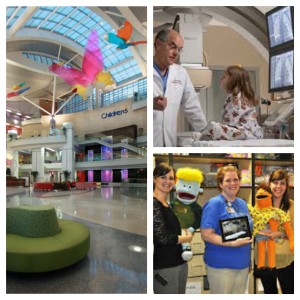 The Children's Hospital at OU Medical Center works to provide a child- and family-friendly atmosphere, in every way.
Their doctors, nurses and staff are trained in pediatrics, the medical treatment of children, so they can understand and support each child's physical, emotional and social needs, while in the hospital.
They use language that children can understand and, when possible, medical play to explain procedures to our young patients.  They also spend time educating parents and care givers, so they are confident caring for their child after returning home.
In keeping with their efforts to support each child's emotional and social needs, The Children's Hospital identified several benefits of the Caped KIDsaders program. We are thrilled to launch our initial pilot program by bringing books and capes to 1500 children beginning March 9th 2016.

"As an Oklahoma native, it was a natural choice for me to select The Children's Hospital at OU Medical Center as the Foundation's first beneficiary. While it's our mission to bring the Caped KIDsaders program to every children's hospital in the country (and eventually, the world!), we have to take one step at a time and I can't think of a better place to start giving back than the place that gave me so much."

– Alonzo Cannon, President & Founder
"Even if children are sick, they can still have resources to keep them connected to learning, and that's why projects like Alonzo Cannon's book are vital to this endeavor."

– State Senator Anastasia A. Pittman, Oklahoma
"One of the biggest reasons kids love superheroes is the sense of control and power they can exert on the world vicariously. By channelling their energies into these fictional figures, they can conquer bad guys, rule the world and be kings or queens of their own universes."

– Naeema Jiwani, child development psychologist at the Human Relations Institute, Dubai
"Superheroes kind of helped me a little. [They] helped me get through cancer."

– Nicholas P., patient at Toledo Children's Hospital
(When Nicholas was being treated for leukemia, he dressed up as a superhero every day for inspiration.)
For information on bringing the Caped KIDsader's "Kids are CAPEable!" program to your hospital, contact us today!